Online Meeting Information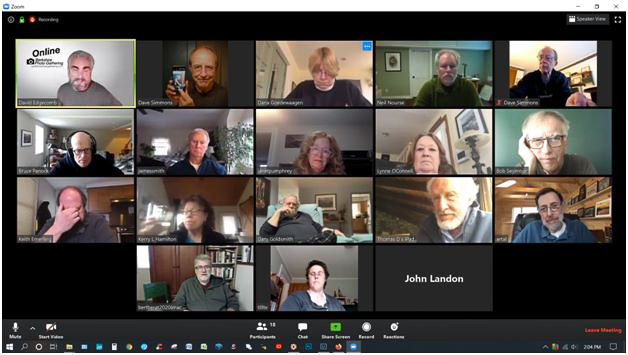 To prepare for our online meetings:
Please go to https://zoom.us/download and download the free software.
The software is also available for mobile devices by going to the app store and searching for the word "zoom".
There is no need to create a zoom account to attend a meeting.
Please run the software client and test your audio and video capabilities ahead of time.
Give yourself enough time to update software if it is indicating you should do so.
Dress to impress. We would like you to turn on your video so we can see you.
Be sure to upload your images to our member area before the deadline.
Schedule your calendar with this link.
2021 BPG Online Meetings
Suggestions for Online Sharing
The use of online technology affords us opportunities that are not feasible during our in-person gatherings. It has been suggested that we experiment with the following additions:
If you use a mobile device, you can take us on a field trip to your gallery or work area.
You can produce a video in advance. We allow 3-minute video clips to be entered in our member area.
From your computer you can share our desktop and processing application in order to illustrate software techniques. Please email me in advance at david@berkshirephotogathering.com of your intention for this.
Meetings will be open 15 minutes before and after or scheduled gathering time to allow us time to gather and chat openly.
To attend our online meetings:
At the scheduled time of the meeting navigate to https://us02web.zoom.us/j/84350004009
or join using Meeting ID 843 5000 4009 directly from your Zoom client.
or join by phone: Dial +1 646 558 8656 US (New York). When prompted use Meeting ID 843 5000 4009.
Your mic and video will be open when entering a meeting. You can control the mute. When unmuted please be sure you are in a quiet location to minimize background noise.
You can utilize the raise hand and chat features to communicate with the host.
Our online meetings will remain free for everyone to attend until we reach full confidence to safely gather in large numbers in our community setting. Any contribution during this time to help offset operation costs is much appreciated. If you would prefer to use your member card for a donation please email
david@berkshirephotogathering.com